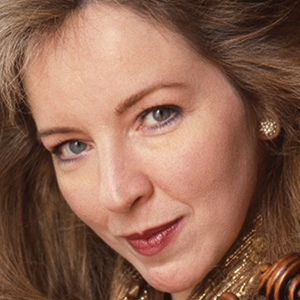 STEPHANIE CHASE
violin
Stephanie Chase is internationally recognized as "one of the violin greats of our era" (Newhouse Newspapers) through solo appearances with over 170 orchestras that include the New York, London, and Hong Kong Philharmonics and the Chicago, San Francisco, Atlanta, Baltimore, and London Symphony Orchestras. A top medalist of the prestigious VII International Tchaikovsky Competition in Moscow, Ms. Chase has performed concerts in twenty-five countries throughout the world and is a recipient of the esteemed Avery Fisher Career Grant. As soloist she has collaborated with conductors that include Zubin Mehta, Leonard Slatkin, Leon Barzin, Herbert Blomstedt, Frans Brüggen, Marin Alsop, Enrique Diemecke, Christopher Hogwood, Roy Goodman, Hugh Wolff and Stanislaw Skrowaczewski.  With conductor Kenneth Schermerhorn, she was a featured soloist with the Hong Kong Philharmonic on its first trip ever to the People's Republic of China—an historic event that garnered worldwide attention.
Equally at home in the virtuoso's repertoire, historically informed performance practice and contemporary music, Stephanie Chase maintains a repertoire of over 60 concertos and large works for violin and orchestra.  In recent seasons her rendition of Elgar's Violin Concerto (with the Louisville Orchestra) was selected as a "Classical Act of the Decade" and her New York recital, with pianist Sara Davis Buechner, was chosen as one of "20 Concerts to Hear this Fall" by WQXR and a "Critics' Choice" by Musical America. Chase and Buechner also performed all ten of Beethoven's Sonatas for Violin and Piano in a highly praised three-concert series in New York. Their 2017 recital at Le Poisson Rouge was met with a rave review in the New York Times.
Her recent performances include featured soloist with the American Classical Orchestra at Lincoln Center's Alice Tully Hall, on period instruments in repertoire by Bach and Vivaldi, and Niels Gade's Violin Concerto at New York's Symphony Space. She made her debut in Vietnam in the summer of 2018 and has been re-engaged for the summer of 2019, again with the Vietnam Connection Festival. Following her sensational performances at the Newport Festival in Rhode Island in 2017 and 2018, she was immediately re-engaged for the 2019 season.
Ms. Chase is also an advocate of contemporary music and has premiered music by composers including Earl Kim, Edward Applebaum, Eleanor Hovda, Joan Tower, Yehudi Wyner, Richard Pearson Thomas, and Taavo Virkhaus.
Among the musicians with whom she has collaborated in chamber music are pianists Sara Davis Buechner, Brian Connelly, Jean-Ives Thibaudet, Wu Han, Anne-Marie McDermott, Jon Nakamatsu, and William Wolfram, members of the Tokyo, Borromeo, Escher and Guarneri Quartets, and singers Dawn Upshaw, William Sharp, John Cheek and Dominique Labelle. As a former artist member of the Boston Chamber Music Society, she toured internationally with the group and is featured on several recordings made by the Society in a variety of repertoire.
Born in Illinois to one of America's oldest and most prominent families, Stephanie Chase's first violin teacher was her mother, and her father, (Robert) Bruce Chase, was a noted music arranger and composer as well as a violinist. At age two she was already performing in public and made her debut with the Chicago Symphony six years later as the youngest winner ever of the orchestra's Youth Competition. At age seven she commenced studies in New York with Sally Thomas of The Juilliard School and within a few years embarked on extensive national tours as a soloist and recitalist, making her Carnegie Hall debut as soloist with the National Orchestral Association at age eighteen.  Shortly thereafter she became a favorite pupil of the legendary Belgian violinist Arthur Grumiaux, which was followed by summer chamber music studies at the famed Marlboro Festival in Vermont with many of the late-20th century's most prominent musicians including Rudolf Serkin, David Soyer, Rudolf Firkusny and Felix Galimir.